Vertical Bridge supports your business with innovative outsourced human resource solutions that enable you to provide your employees with the best programs and training currently available in the marketplace.
We customize each project to your specific needs. Our ability to identify gaps and areas for improvement, along with our expertise at designing unique HR and leadership development for your business is what sets us apart.
We work with you and your team to make sure that you have effective and lasting HR best practices in place.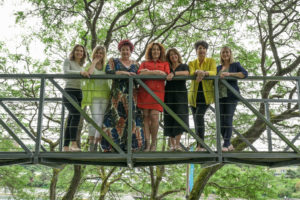 What Our Clients Say About Us
"I had the pleasure of working with Laurie from Vertical Bridge on our Bamboo HR implementation and she was with us every step of the way. She was very professional and extremely hardworking. She went above and beyond to ensure we resolved some queries with the Bamboo HR help team even though we were over our budgeted time. She handled all of the basic uploads and configuration but also worked with us and the Bamboo HR team to tailor the software for our specific needs as well. I would be happy to work with her again in the future and recommend her to others working through a Bamboo HR implementation."
"I have had the extreme pleasure of working with Laurie Caldi of Vertical Bridge Consulting for the past 7 months. Our company hired her on to help with the hiring process of new employees as well as implementing company procedures and policy manuals. She has taught me so much in so little time. Her positive energy paired with her knowledge and passion for helping others has been a valuable addition to our company. I highly recommend Laurie for all your HR needs…Thank you Laurie!"
"Thanks again for all your help with our search for an Executive Director.

We are thrilled with the result!"
"Laurie Caldi is an intelligent, strategic and articulate individual. She is a technical expert in her field who also understands people and the value and necessity of both equally. Laurie was a guiding light in the transition to a new accounting system for our office and can manage technical change and HR matters equally which makes transitions smooth and welcoming."
"Debbie has demonstrated expertise in team assessments and team building. She is direct but tactful and professional. She is quick to identify traits and strengths. I highly recommend Debbie for supporting your team in being even more cohesive and productive."
"Debbie recently worked alongside us in facilitating workshops to enable our leaders with the tools and resources they needed to be effective in our newly implemented performance appraisal program. Debbie was able to quickly understand the requirements of the business and tailor her facilitation to suit those needs, as well as incorporate our values and culture perfectly. She was an influential facilitator who able to grasp the attention of everyone in the room and encourage engagement. We look forward to working alongside Debbie on projects to come."
"Sandra and the Vertical Bridge team have helped us tremendously with our human resources policies and training. They took the time to get to know our business, understand our values and helped us create a robust end-to-end employee handbook that has enabled us to grow while ensuring we follow employment standards and industry best practices. Sandra has a wealth of experience in the field of HR and has been a trusted advisor to our business."
"Phyton Biotech began its relationship with Vertical Bridge in 2012.

 

Over the past eight years Vertical Bridge has been a strategic partner with Phyton to help a small ~50 employee company grow from a organization with little HR structure to one that's fully able to address company culture and engagement, employee issues, corrective behavior, manage leadership development, performance management, and recruitment while helping develop and mentor an in house HR professional. The professionals at Vertical Bridge have been able to provide Phyton with guidance on employee handbooks, recruitment, leadership development, group training, teamwork, conflict management, compensation and being available for general ad hoc needs.

 

I am happy to recommend Sandra and her team to any organization requiring HR support whether for projects or assisting to establish HR infrastructure to help manage and develop your most precious resources."
"As we are a start-up enterprise; Managed Services from Vertical Bridge is an ideal solution to facilitate our scale up hiring plans and proactively set up and manage our HR systems and processes until our business requires a full time, on-site HR professional.  Dawn has become a trusted member of our team; not only providing necessary expertise, but also valuable insight into our talent acquisition and management strategies."
"We were looking for a unicorn in a very competitive corner of the tech space. Vertical Bridge delivered quality candidates, superbly vetted, in record time.

 

On top of all that, they were an absolute pleasure to work with!"
"We are a small business going through a fast growth yet want to stay nimble and lean. We want a human resource solution, not a human resource department. Vertical Bridge won our consulting contract after two rounds of screening process with its professional, to-the-point presentation and proposal. Their designated consultant Laurie Caldi was hands on, thorough and patient.

Based on the unique nature of our requirements, Vertical Bridge delivered a HR solution, Bamboo HR, which fit our budget, current needs and possibility for further expansion. Laurie made sure our questions were answered and our staff were properly trained and felt comfortable using the system on our own. Among all the deliverables, there were a set of standard HR templates, a performance review program, an incentive program, as well as a comprehensive employee handbook. Overall, we are very happy with their expertise and quality of work and services, and we will not hesitate recommending them to other businesses."
"I have had the pleasure of working with Vertical Bridge and Sandra Reder for 7 years. Fortuitously we were introduced as I opened my own practice. She assisted me with developing contract templates, grooming policies, and many other HR documents. Sandra has also been invaluable assisting me with hiring and terminations.

I have turned to Sandra countless times with "small" problems such as interoffice politics, recommendations on severance and how to handle verbal and written warnings. Sandra's catchphrase to "mitigate not litigate" has taught me to address things quickly and to ensure I am compliant with BC Workplace law.

Without Sandra, I would not have known that it is my responsibility as an employer to hold a seminar to educate my employees about the law around BC Workplace Bullying and Harassment Policy. 

When my longtime office manager resigned in February 2020 Sandra was able to help me write a job description, screen over 150 CV's and provide me with 3 qualified candidates. Three months later I couldn't be more pleased with the result. In addition to saving hours of my time Sandra has the insight and experience to weed out the good candidates from those who talk a good game."